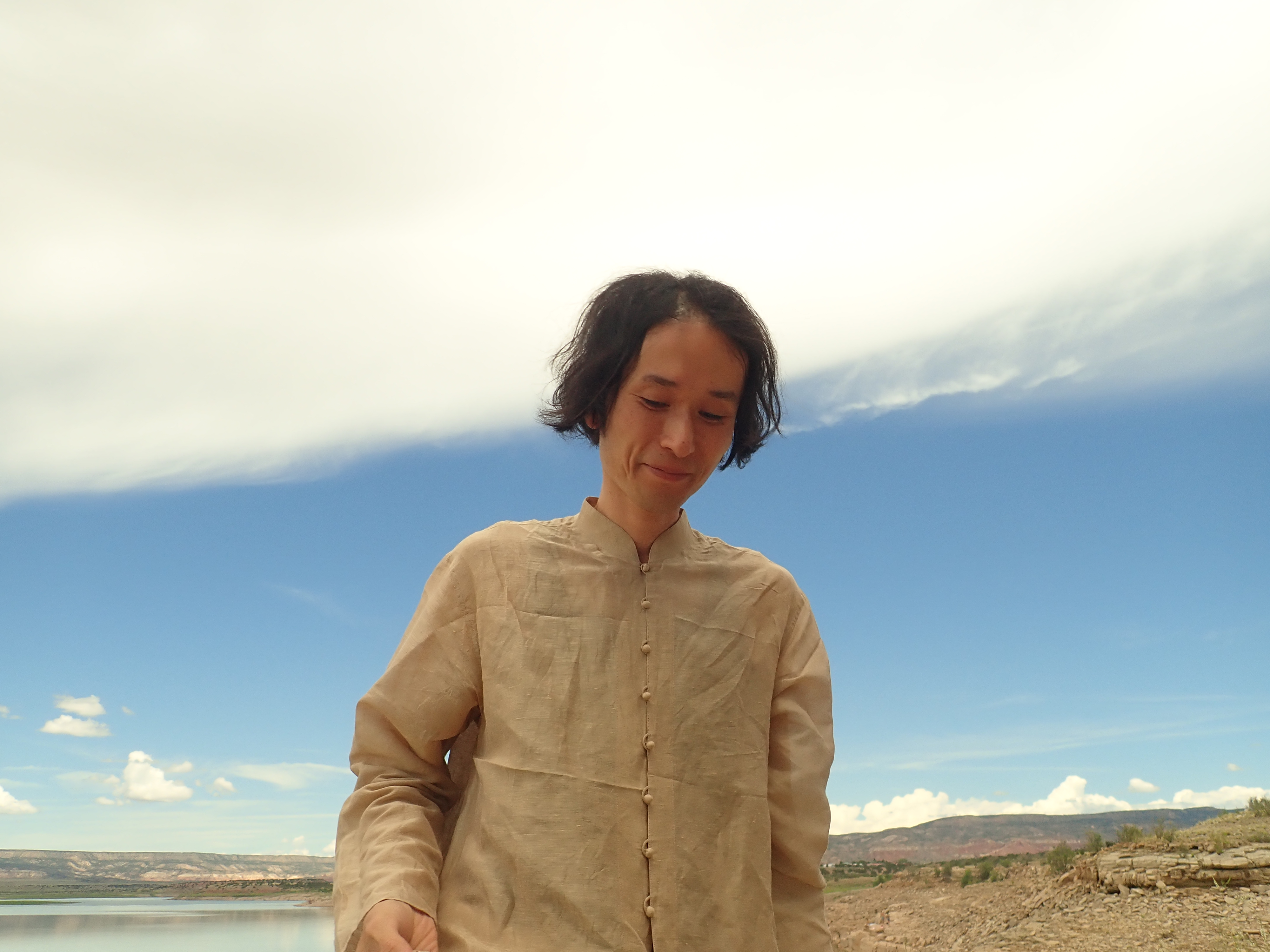 Masakatsu Takagi

(Musician, Video Artist)

Born in 1979 in Kyoto, Japan. Lives and works in Hyogo, Japan. 

Masakatsu Takagi started his career as a visual artist, creating video art with his own music which played with his Piano and software processing. In 2001, His first album, Pia, was released by Carpark Records in the United States. Following other releases on Karaoke Kalk, he shifted his focus to playing the piano more specifically, in the form of intimate solo piano style, as well as in band settings and with larger orchestras as well. 
In 2013, he moved from Kyoto to a very small village in mountains in Hyogo, Japan. With small slates of agriculture, he started to learn how to live in traditional living style of Japan.  A few years later in 2017, Takagi started working on Marginalia, consisting of daily piano recordings created in his private studio surrounded by the mountains, with a heavy influence of the sound of the adjacent nature from the studio's open windows. These recordings, which encompass a duality of simplicity as well as a vastness that comes from the freedom from life's distractions, began to represent not just a collection of new material, but a sightline into Takagi's life in Hyogo. Milan Records released Marginalia on December 7th 2018 on cd/digital/vinyl. 

"I opened all the windows to welcome the sounds of nature and played the piano without any sort of preparation: no overdubbing, no writing, no editing or mixing, no fixing…just as it is, he describes. "What you are listening now are raw, improvised piano recording where the sounds of nature and the musical notes are recorded at the same time, in harmony without any discrimination.  I love to think that nature might also listen to my piano. The nature is the melody. The piano is the harmony."

His visual works have been exhibited at many museums and galleries as well. Some of his works are owned by contemporary a rt museums , have been commissioned by institutions of science and universities, while also be commissioned by companies like Audi or Nokia.

In 2003, as a visual artist, he collaborated with David Sylvian, creating visual projections for Sylvian's concerts. Takagi has also created visuals for other musicians like Cornelius, and Sketch Show (Haruomi Hosono and Yukihiro Takahashi). 
Starting with Wolf Children (2012), he has created scores for animation films directed by Mamoru Hosoda. These titles include The Boy and the Beast (2015), and the upcoming release of Mirai (2018). The Wolf Children score was chosen as the iTunes Best Soundtrack of 2012 in Japan.  Additionally, he also composed music for The Kingdom of Dreams and Madness (2013), a documentary film for Hayao Miyazaki (Studio Ghibli) directed by Mami Sunada. 

As for Marginalia, the material ranks among Takagi's most intimate compositions. The tracks stand as beautiful reflections on man's relationship with the environment, and are a must-own for fans of neo-classical compositions, and solo piano works.




Discography

20
"Marginalia II", Milan Records, USA
2020
"O.S.T. - Silent Rain
2019
"Marginalia II", Milan Records, USA
2018
"O.S.T.-Mirai", warner music, Tokyo
"Marginalia", Milan Records, USA
2016
"Yama Emi"(2CD+DVD), novus axis, Tokyo
"Ymene"(CD), novus axis, Tokyo 
2015
"O.S.T. - the Boy and the Beast"(CD), Toy's Factory, Tokyo + Milan Records, USA
2014
"Kagayaki"(CD+Book), felicity, Tokyo
2013
"Omusuhi"(CD+Book), felicity, Tokyo
"- Kyoryu Sensei" (Download)
2012
"O.S.T. - Wolf Children (Ookamikodomo no Ame to Yuki)", Vap, Tokyo + Milan Records, USA
2010
Documentary Film "Aruongaku" (DVD), Epiphany Works, Tokyo
2009
"Tai Rei Tei Rio" (CD+Book), Epiphany Works, Tokyo
2007
"Private/Public" (CD), Epiphany Works + Book, inc., Tokyo
2006
"BLOOMY GIRLS" (Art Book+ DVD), bluemark + Epiphany Works, Tokyo
"AIR'S NOTE" (CD), DefSTAR Records, Tokyo
2004
"COIEDA" (CD+DVD) , W+K Tokyo Lab, Tokyo
2003
"rehome" (CD+DVD)) , W+K Tokyo Lab. , Tokyo
"eating2" (CD, EP), karaoke kalk, Berlin
"sail", (CD) daisyworld discs, Tokyo
"world is so beautiful" (DVD), daisyworld discs, Tokyo / Carpark Records, Washington D.C.
2002
"eating" (CD, EP) , karaoke kalk, Berlin
"opus pia" (CD, DVD), Carpark Records, Washington D.C.
"JOURNAL FOR PEOPLE" (CD, DVD) , daisyworld discs, Tokyo / Carpark Records, Washington D.C.
2001
"pia" ( CD+CD-ROM ), Carpark Records, Washington D.C.



Publication




Collaborations / Comission works


*Soundtrack (Cinema)

2018
"Mirai" , Japan
2015
" the Boy and the Beast" , Japan
2013
"The Kingdom of Dreams and Madness" , Japan
2012
"Wolf Children (Ookamikodomo no Ame to Yuki)" , Japan
2011
"Tama Tama" , Japan
2007
"Sonotoki ha kare ni yoroshiku", Japan



*Soundtrack (TV /drama, documentary)

2013
"Kyoryu Sensei", NHK, Japan
2011
"Niyodo River", NHK, Japan



*Soundtrack (TV)

2018
Opening for "Kinyo Road Show", Japan
2016
Opening/Ending/Weather Report theme for "news Toyama-jin", Mainichi, Tokyo
2009
Opening theme for "AOI", NHK, Tokyo
Opening theme for "Voice(news program)", Mainichi, Tokyo
2003
Opening theme for "ETV special", NHK, Tokyo
2002
Opening theme for "meeting beauty", NHK, Tokyo


*Soundtrack (Radio)

2011
Radio Drama "Haru Matsuri", NHK FM, Japan


*Soundtrack (Contemporary Dance)

2012
"The Universe of Mandara (by Kaiji Moriyama)" , Japan
2004
" Wonder Girl (by Naoka Uemura)', Spiral Hall, Tokyo


*Soundtrack (Commercial Films)

2018
"Google Earth Studio",USA
"au",Japan
"Ucan", Japan
"Nissay", Japan
"YKK AP", Japan
"Sports Bull", Japan
"Seven Eleven", Japan
"Astellas", Japan 
2017
"UNIQLO", Japan
"KIRIN - windman", Japan
"Ucan - one month", Japan
"NEXCO naka nihon", Japan
"YKK AP", Japan
"SONY Handycam", Japan
"LITS", Japan
"GMO", Japan
"Tokyo Gas", Japan
"JAL - fujisan beauty flight", Japan
"PALCO", Japan
"Denso", Japan 
2016
"au", Japan
"Mercedes-Benz", Japan
"UNIQLO-Bratop", Japan
"SHISEIDO HAKU ", Japan
"ISETAN Xmas 2016", Japan
"TOYOTA GAZOO Racing", Japan
"JR Ikuze Tohoku", Japan
"Mitsui Rehouse", Japan
"SOFINA IP", Japan
"Merit Pyuan", Japan
" toto BIG", Japan
"Panasonic eolia", Japan
"Panasonic cycle", Japan
"KAO Kyukyutto", Japan
"airbnb", Japan
"hadakara", Japan
"KLinkx", Japan
"Daido Seimei", Japan
"Tokyo Gas", Japan
2015
"Kao 'Merit Puan'", Japan
"JR", Japan
"Tokyo Gas", Japan
"DMM. make ROBOTS", Japan
"UNIQLO 'AIRism spring/summer 2015'", Japan
"MS&AD - Nadeshiko", Japan
"Nissan DAYZ", Japan
"Suntory - Mineral Water", Japan
"Adobe - The Color Eater",USA
"Kyowa Hakko KIRIN - 10 SOUNDS OF LIFE SCIENCE", Japan
"Hoken no Madoguchi", Japan
"KOSE FASIO", Japan
2014
"Lexus IS", Japan
"Suntory - Mineral Water", Japan
"PanaHome", Japan
"Bridgestone - ECOPIA ologic", Japan
"TBC", Japan
"Dove", Japan
"toto", Japan
"JAL ", Japan
"JR 'Ikuze Tohoku'", Japan
"ONWARD Kumikyoku 2014 S/S", Japan
2013
"ONWARD, Kumikyoku", Japan
"Clé de Peau Beauté - Rouge à lèvres", Japan
"Louis Vuitton - The Timeless Muses", Japan
"KADOKAWA", Japan
"Honda - CMBS", Japan
"Hoken Ichiba - Yakusoku", Japan
"OLYMPUS PEN", Japan
"Toshiba LED 'LED 10years live'", Japan
"JR 'Ikuze Tohoku'", Japan
"JT ", Japan
"KANRO ", Japan
"docomo d-video", Japan
"JAL ", Japan
"6th Toyota Dream Car Art Contest ", Japan
"Meiji Milk Chocolate ", Japan
2012
"ONWARD Kumikyoku 2012 A/W", Japan
"Honda Link", Japan
"Sumitomo Seimei"
"ANA 60th", Japan
"The 5th TOYOTA Dream Car Art Contest", Japan
"ALWAYS'64", Japan
"docomo d-video", Japan
"JAL", Japan 
"6th Toyota Dream Car Art Contest", Japan 
"Meiji Milk Chocolate", Japan 
2011
"Intel - The Museum of Me"
"Sumsung - Galaxy"
"Met Alico", Japan
2010
"Nippon Yusei", Japan
2009
"Microsoft", Japan
"Toyota Lexus", Dubai
2008
"SHARP - AQUOS", USA
2007
"Yebisu <the pop>" , Japan 
"Meiji Milk Chocolate" , Japan
2006
"EPSON" , Japan
2005
"Kumon" , Japan
2004
"Mitsubishi motors / COLT plus"



*Appearance (Commercial Films)

2014
Apple 'Thirty Years of Mac'
2007
Yebisu beer <the pop> with a singer Salyu
2006
Apple's commercial movie 'Sound of Light'



*Comission Works (Music Video)

2006
Cornelius 'Toner'
2005
YUKI 'Dramatic'
2004
UA 'Lightning'
2003
Mimori Yusa 'Light Song'



*Comission Works (Video for Concert)

2009
"Shomyo" by Buddhist Monks, Nara International Film Festival
2007
Sandy Lam "Seamless"
2004
David Sylvian "Blemish tour", Russia, Japan
2003
David Sylvian "Blemish tour", Europe
2002
Sketch Show (Haruomi Hosono,Yukihiro Takahashi) live tour" , Japan



*Comission Works (Video for Cinema)

2009
"SOULRED", Japan


*Comission Works (Video for TV, etc.)


2009
Opening Movie for "AOI", NHK, Tokyo
Opening Movie for "Voice(news program)", Mainichi, Tokyo
2008
"Thanka" "IORA" for NOKIA, UK
"NIHITI" for RIKEN, Center for Developmental Biology, Kobe, Japan
"Homicevalo" for Tama Art University, Institute for Art Anthropology, Tokyo, Japan
2007
"Tidal" for Audi, Aurtralia
2005
Jhon Cage "New Ryoanji" music by Carsten Nicolai and Ryoji Ikeda,UK
2004
Bridge Movie for "SMAP x SMAP", Tokyo
2003
Opening Movie for "ETV special", NHK, Tokyo
2002
Opening Movie for "meeting beauty", NHK, Tokyo
Opening Movie for "Image Garden - inspired by Derek Jerman", UPLINK, Tokyo



*Collaboration (Music)


2015
Arrangement for "Bokura ga Tabi ni Deru Riyu / vocal by Chieko Baisho"
2010
Light work and music for mobile phone "KDDI iida LIGHT POOL", Japan
2009
2008
Playing the Piano for Steve Jansen's concert "Slope", Meguro persimmon hall, Tokyo, Japan
2007
Compose "Aie" for album "Tomoyo Harada / music & me"
2006
Arrangement for "YUKI / Himitsu no Hanazono" , Sony Epic Records, Tokyo
"Takagi Masakatsu VS Hiroshi Minami" for DVD 'BOYCOTT RHYTHM MACHINE II - VERSUS', LASTRUM, Tokyo




*Collaboration (Music Remix)


2012
"Aimer / Kanashimiha Aurora ni", Sony DEFstar Records, Tokyo
2006
" CHEMISTRY / noting", Sony DEFstar Records, Tokyo
"Orangerange / Natural Pop", Sony, Tokyo
2005
"YUKI / JOY" , Sony Epic Records, Tokyo
"aqualung / easier to lie", Sony DEFstar Records, Tokyo
2003
"Tuji Ayano / Sakura no ki no sita de", Victor Speedstar Records, Tokyo
"Poralis / Lemon", Family song, Tokyo








Live Performances

2012
"HARAJUKU PERFORMANCE + DOMMUNE 2012", Tokyo, Japan
"Electraglide 2012", Tokyo, Japan
2011
Concert " ULBU" with Quanta Orchsetra, Taipei, Taiwan
2010
Takagi Masakatsu Piano Solo Concert Tour "Ymene", Japan
2008
Takagi Masakatsu Concert "Tai Rei Tei Rio", Meguro Persimmon Hall, Tokyo, Jaan
"Science and Music",Kyoto Kaikan 2nd Hall, Kyoto, Japan
Takagi Masakatsu Concert "Private/Public - 2voices and 2 pianos", The Kennedy Center, Washington D.C.
2007
Opening Performance at Cornelius's Japanese tour, Seibukodo, Kyoto, Japan
"OFFF festival", Barcelona, New york
"Sense of wonder", Yamanashi, Japan
2006
Takagi Masakatsu Concert "Private/Public", Laforet Museum, Tokyo
"Nuit Blanche", TOYOTA showroom in Les Champs-Elysees, Paris 
"Festival Mediarte 4.0", Teatro del Centro de las Artes in Monterrey, Mexico
"LUX 2006", FUNDACION DE LAS TRES CULTURAS, Sevilla, Spain
2005
" Performing Arts Market", Soul, Korea
Touring among Europe including 3 nations, 4 cities for live performance.
"OPTORONICA Festival", London, UK
2004 
"BARCELONA FORUM" 2004
Opening event at "21st Century Museum of Contemporary Art" , Kanazawa, Japan 
"Weather Brain Festival", Taipei, Taiwan
"AIM V : ASIA NO.W.HERE", L.A., USA
2003 
Opening Performance at Sigar Ros's Japanese tour, Tokyo International Hall, Japan
" SONAR" , arcelona Museum of Contemporary Art, Barcelona
Solo concert supprted by Maison Moetl, Spial hall Tokyo, Japan
2002
Opening event at art center "Esplanade" , Singapore
Touring among Europe including 8 nations, 18 cities for live performance
2001
Touring among 12 cities in US and Canada for live performance
"7th Istanbul Biennale", Istanbul, Turkey






Solo Exhibitions

2013
"Hatsugasai", Yamamoto Gendai,Tokyo, Japan
"Utagaki", YCC, Yokohama, Japan
2011
"Ymene", Agora Art, Taipei, Taiwan
"Ayuti", Kasugai Civic Cultural Foundation, Aichi, Japan
2010
"Ymene", YAMAMOTO GENDAI, Tokyo, Japan
2008
"ITAKO", YAMAMOTO GENDAI, Tokyo, Japan
2006
"TAKAGI", Byblos Gallery, Verona, Italy
2005
"Recent Works", Mixed Media, Shizuoka, Japan
2003
"World is so beautiful", CAI Gallery, Hamburg, Germany
2002
"World is so beautiful" - collaborating with 'Agnes b.', Agnes b. shops , Japan
"JOURNAL FOR PEOPLE", Gallery SOAP, Fukuoka, Japan
2001
"JOURNAL FOR PEOPLE", art space 'Zone' , Tokyo, Japan
"pia" - curated by Minoru Hatanaka (ICC), Pepper's Gallery, Tokyo, Japan 





Group Exhibitions

2017
" Yanabaru Art Festival", Okinawa, Japan
"Takahashi Collection", Contemporary Art Museum, Kumamoto, Japan
2016
"All Living Things", Vangi Sculpture Garden Museum, Shizuoka, Japan
"Animated!:Explorations into Moving Pictures", Palmer Museum of Art, Pennsylvania, USA
"The Need for My Care", Waterfall Mansion & Gallery, New York, USA
2014
"Twentieth Anniversary Special MOT Collection Chronicle 1995", Museum of Contemporary Art Tokyo, Tokyo, Japan
"Bishojo:Young Pretty Girls in Art History", Aomori Museum of Art, Aomori, Japan
"Media Ambition Tokyo 2014", Roppongi hills Tokyo City View, Tokyo, Japan
2013
"DAYDREAMS",Takamatsu City Museum of Art, Kagawa, Japan
2012
"Cosmic Travellers - toward the unkwown",Espace Louis Vuitoon Tokyo , Japan
2011
"CAFE in Mito 2011",Mito Contemporary Art Gallery, Ibaragi, Japan
"Trans - Cool Tokyo", Taipei Fine Arts Museum, Taipei, Taiwan
"Invisibleness is visibleness", MOCA Taipei, Taiwan
2010
"Transformation", Museum of Contemporary Art Tokyo, Tokyo, Japan
2008
"QUANDO VIDAS SE TORNAM FORMA: DIA´LOGO COM O FUTURO", Museu de Arte Moderna De Sao Paulo, Sao Paulo, Brazil
"QUANDO VIDAS SE TORNAM FORMA: DIA´LOGO COM O FUTURO", Museu Oscar Niemeyer, Curitiba, Brazil
"KITA; Japanese artists meet Indonesia", Jogja National Museum, Jogjakarta, Indonesia
"Dual Points", Kyoto Art Center, Kyoto, Japan
2007
" In the forest", Tanebe City Museum of Art, The Museum of Modern Art, Wakayama, Japan
"MOT Collection 2007", Museum of Contemporary Art Tokyo, Tokyo, Japan 
2006
"Gardens", Toyota Municipal Museum of Art, Nagoya, Japan
"Context Series, Part I", the Museum of Glass, Seattle, USA
" Trial Balloons", Museo de Arte Contemporaneo de Castilla y Leon, Leon, Spain
"My heart belongs to... Tokyo", Le Cube, Issy-les-Moulineaux, France
2005
"Art Caradescope Osaka05", Gallery CASO, Osaka, Japan
"Cruising Landspcapes", Genichiro-Inokuma Museum of Contemporary Art, Kagawa, Japan
"Express", Duolun Meuseum of Moderm Art, Shanghai, China
"BIAS, Taipei Fine Art Museum", Taipei, Taiwan
"Arts Plaza Opening Celebration", University of California, USA
"The Evening Traveling", Spoltore, Pescara, Italy
"Neo / Baroque, Bybos Art Gallery", Verona, Italy
"Lido", Kunsthalle Dusserdorf, Dusseldorf, Germany
"Playing JOHN CAGE", ARNOLFINI Gallery, Bristol, UK
"Plaza of Light", Sendai Mediateche, Sendai, Japan
"Color of empty sky" (collaboration with Saeko Takagi), Tansplant Gallery, New York, USA
"Sweet Memories", Hokkaido Museum of Modern Art, Sappro, Japan
2004
"The gallery at night", Sketch Gallery, London UK
2003
"INTERRUPT", Singapore Art Msueum, Singapore
2002
"CAFE in Mito", Mito Contemporary Art Gallery, Ibaragi, Japan
"MOT annual 2003", Museum of Contemporary Art, Tokyo, Japan






Screenings

2009
Screening Documentary film about Takagi Masakatsu "Aruongaku" , KINOTAYO film festival (france), Nara International Film Festival (Japan) etc.),
2007
"Art Animation Festival", Aichi Arts Center, Aichi, Japan
"OFFF Festival", Center for Contermporary Culture in Barcelona, Spain
"Animation - Adventures of moving Picture", Yokohama Museum of Art, Yokohama, Japan
"Lovebytes 2007", Showroom Cinema 3, Shefield, UK
2006
"RESFEST 2006", world tour
"one dot zero 2006", world tour
"Kaleidoscope", Whitechapel Art Gallery, London
"Pulse in braim", Sendai Media Theque, Sendai, Japan
2005
"RESFEST 2005", world tour
"one dot zero 2005", world tour
"Experimenta" , Melbourne, Australia
"SynthFest: A Festival of New Media Art Direction and Global Pop Culture", Transplant gallery, New York
"Art Video Program", 21st century museum of contemporary art, Kanazawa, Japan
2004 
" SOUND X VISION 2004" , Tokyo, Osaka, Sendai, Yamagata
"sonarsound tokyo 2004", Yebisu The Garden Hal, Tokyo, Japan
"RESFEST 2004"
"Videodrome II", New Museum of Contemporary Art, New York USA
"AUSTIN MUSEUM OF DIGITAL ART Digital Showcase", Austin, USA
2003 
"one dot zero 2003"
"AUSTIN MUSEUM OF DIGITAL ART Digital Showcase", Austin, USA